Reviews from our customers
5 out of 5 stars  

Shirt is perfect! Thank you again!

5 out of 5 stars 

It's amazing! I love it! You will not be disappointed!

5 out of 5 stars 

A pleasure to work with

Will definitely be making more purchases

Thank you again!

5 out of 5 stars 

I absolutely love this shirt so much. Fast delivery and exceptional customer service.

This listing is no longer available
5 out of 5 stars 
I absolutely love this shirt so much. Fast delivery and exceptional customer service.
My 2 awesome shirts from
Twisted Oak's VIP Grove
, I have known
Elizabeth Smith-Bunge
for years. Her designs and products have always been the highest Quality!! I definitely recommend checking her page out
 Linda Herman
Enjoying my first cup of coffee on this Beautiful sunny day!!!
I was getting so tired of all the rain!!! One of my many favorite coffee mugs, this one was made by my Beautiful friend
Elizabeth Smith-Bunge
 Linda Herman
5 out of 5 star

Gorgeous shirt and it came quickly!
* Morgan on Mar 31, 2021
5 out of 5 stars 
Shipping was fast and the shirt is so cute! Absolutely love the little sticker it came with also!🥰
* 
Merwyn
on Feb 25, 2021
5 out of 5 
thank you! I am saving this banishment tube for a special purpose!
Hoodoo Banishment Powder Glass Tube, Last one! spell craft, witchcraft, magick
*  Ava on Feb 13, 2021
5 out of 5 stars 
It looks just like the picture! I love it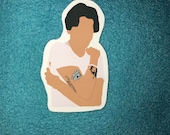 Chase Hudson/lilhuddy
5 out of 5 stars 
Beautiful! Smelled wonderful when it arrived. The seller even included a free pendant.